Sciatica Pain Relief In Ashland
Welcome to Wellspring Centre for Body Balance
Sciatica is caused by compression on the sciatic nerve and the pain can be excruciating. The low back pain that radiates down the back of the leg can be debilitating. At Wellspring Centre for Body Balance, we understand how discouraging it can be to complete even the simplest of daily tasks with this pain and we are here to alleviate your sciatica quickly and naturally.
Call (541) 482-2021 to book your FREE consultation today!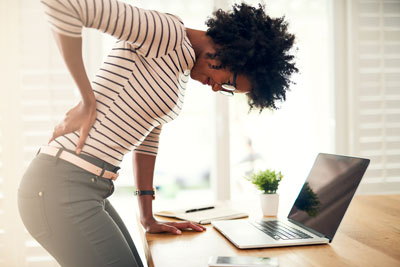 Personalized Sciatica Treatment
Every patient is different. There is no one type of adjustment we use to relieve sciatic nerve pain. Instead, sciatica treatment is customized to what works for you. You'll receive a comprehensive evaluation so that we can determine the source of your problems and take the time to answer your questions. We offer same day appointments, have convenient hours and employ a variety of natural techniques to get you out of pain fast.

Before I came to see Dr. March I had hurt my knees in 2000 and over the years one thing has led to another, my foot, back etc. All this time I have been seeing doctors, orthopedist, chiropractors, sobadores, surgeons, acupuncturists, physical therapy, etc. Even though all this helped me get by, I have been limited.

Dr. March is absolutely amazing. I'm so excited to begin my healing journey, though at this point, I have no idea how long it will take to unwind 78 years of stress and trauma. I know I am in the amazing healing hands of Dr. March.

Intuitive and talented Dr March is …… staff are very nice and welcoming

So happy to have found you! The staff and practitioners are wonderful. The healing has begun… Thank you for all you do!

I am so happy to be here!

The preparation that staff gave me, regarding possible reactions and how to take care of myself as I recover, was excellent.

From the first moment I walked in the door to my recent appointment, I feel I've been in good hands. The office staff are friendly and efficient, and Dr. March is an intuitive and communicative practitioner with excellent listening skills.

Dr. Tim March is incredible! He is deeply caring, tunes in to my issues in a deep way, and meets me where I am in my healing process. My work with Dr. March has had a profound effect on my healing process and my life. I am so grateful to have found him and NUCCA.

From the minute you walk into Wellspring Centre, you are made to feel welcome. The front desk staff is awesome! Dr. March has a true gift for healing… His treatments benefit body, mind & soul.

Don't Let Sciatica Pain Keep You From Life
Call Us Today! (541) 482-2021

Expert Sciatica Chiropractor Serving Ashland And Surrounding Areas