The Wellspring Centre for Body Balance Team
Dr. Timothy March, DC
Dr. March attended Western States Chiropractic College, earning a Bachelor of Science in Human Biology and a Doctor of Chiropractic. He's a board-certified chiropractor, influenced by a number of different chiropractic approaches:
Koren Specific Technique – Dr. Tedd Koren
Quantum Spinal Mechanics (QSM3) – Dr. Russell Friedman
Directional Non-force Technique – Dr. Richard Van Rumpt
Pettibon Technique – Dr. Burl Pettibon
Tonal Chiropractic – Dr. Marvin Talsky
Bio-Geometric Integration (BGI) – the sacred geometry of Dr. Sue Brown
Network Spinal Analysis – the expansive work of Dr. Donald Epstein
Torque Release Technique – the revolutionary tonal work of Dr. Jay Holder
Upper Cervical Specific – the work started it all … Dr. B.J. Palmer
Atlas Orthogonal – Dr. Roy Sweat Blair – the specific work of Dr. William T. Blair
Chiropractic Neurology – Dr. Frederick Carrick
Sacro-Occipital Technique® (SOT®) – Dr. Major B. DeJarnette
Assisting All Ages and Stages
With a personalized approach, Dr. March works with the needs of each individual, no matter what their age or level of health. First, he focuses on your specific goals. The next step is to concentrate on your structural alignment. He's proficient in manual and instrument adjusting, including soft tissue manipulation, functional rehabilitation and craniosacral techniques.
Having completed training in sports medicine, Dr. March has multiple ways to help those with injuries, including Kinesio Taping®, Active Release Techniques® and Graston (instrument-assisted soft tissue massage).
Serving As Your Support and Guide
In his life, Dr. March has had a variety of experiences that have led to a strong belief in honoring individuals where they are in their health journey, offering the tools necessary to move to the next step when they're prepared.
He teaches patients that they're the ones responsible for healing when given the correct environment and tools. Through his years in practice, he's found that a hands-on approach is just one of many avenues for correction. Our minds, lifestyle choices and beliefs also have a profound impact on our health. It's Dr. March's mission to empower others through teaching them about their health and body.
Outside of the Office
Dr. March is an advocate for health in all areas of life and emphasizes holistic well-being as part of his care. He and his wife Timber moved to Ashland from Portland. They were drawn to our area by the local sustainable agriculture movement and the deep sense of community. The weather was also helpful, and people's openness to healing and health on a deep level caused them to relocate to the Rogue Valley.
In his free time, Dr. March spends time with his wife, explores quantum physics, the psyche and other aspects of spirituality and health. He enjoys activities such as yoga, qi gong, tai chi, racquetball, snowboarding, gardening, fishing and being outdoors.

Xuba Evaristo
Xuba Evaristo has been a student of the body since early youth with involvement in athletics and dance, and began passionately studying health in the human organism at the tender age of 17.
Studying Asian Philosophy and pre-Med at Macalester College in St. Paul, MN heading into Chiropractic, shifted gears after to go on to post-graduate studies in Wholistic Bodywork, at the New Mexico Academy of Healing Arts, in Santa Fe, NM.
Xuba (pronounced shoe-buh) practices Integrative and Intuitive Wholistic Bodywork, combining the best of over two dozen modalities including especially Cranial Sacral Therapy, Myofascial Release, Visceral Manipulation, Deep Tissue Bodywork and a variety of Asian Bodywork techniques.
Well versed and experienced with a wide array of medical conditions, pre-and post-operative appropriate therapies, as well as injury prevention and recovery.
Also able to facilitate deep relaxation, stress relief, and self-healing, principally through increasing clients self-awareness and harmonizing mind-body-heart balance.
READ MORE ABOUT XUBA »
In full time professional practice since 2000; completed a two and a half year apprenticeship to a Wholistic Chiropractor in 2006; began teaching Wholistic Cranial Sacral Therapy in 2008; and became a proud Papa in 2009. He enjoys drumming, singing, kirtan, capoeira, yoga, hot springs and as much time in nature as possible!
"This work is my passion, my spiritual discipline, and the culmination of lifetimes of preparation and study. It would be my honor and pleasure to share it with you!"

Amy Larsen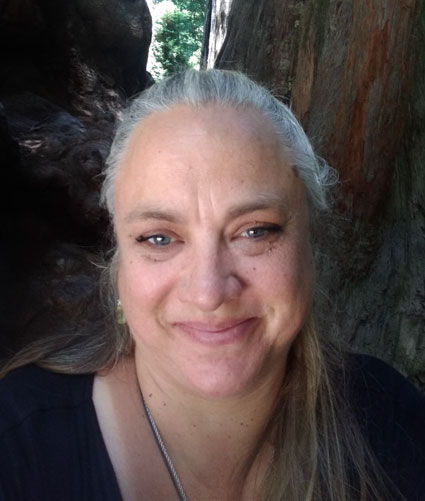 Amy Larsen, a 6th generation Oregonian, has been practicing massage for
nearly 22 years. She received her massage education from Rogue Community College. Massage therapy is part of her spirit. She is highly intuitive and uses several different techniques for each individual session. From the pressure of deep tissue, to light touch craniosacral therapy, she customizes each appointment in order to facilitate optimal healing and relaxation.
She can blend Swedish, deep tissue, myofascial release, trigger point, Reiki and craniosacral therapy during a session. She has a passion for bodywork and loves being a massage therapist.

Timber Hart, LAc, MACOM – Owner & Billing Manager
Timber is a Nationally Certified and State Licensed Acupuncturist. She studied Traditional Chinese Medicine at The Oregon College of Oriental Medicine where she earned a Masters degree in Acupuncture and Oriental Medicine, and her certification as a N.A.D.A detox specialist. In addition to studying Acupuncture and Herbal Medicine she also studied Tai Ji, Qi Gong, Shiatsu and Tuina.
After graduating from Culinary School in 2000, Timber became very passionate about nutrition. For many years she worked as a Chef, learning about living a healthy lifestyle through a balanced diet. With this knowledge and her skills as an Acupuncturists, she incorporates Ancient Wisdom with Modern Nutrition to help heal the body through food with Nutritional Coaching.
Along the way, Timber has studied many other types of vibrational energy medicines including Tuning Forks, Colorpuncture, Flower Essences, Essential Oils, Reiki, Crystal Energy Healing, Chakra Balancing, Matrix Energetics, Sacred Geometry and a variety of Meditation Practices. In her free time
Timber enjoys cooking, exploring nature, yoga, Tai Ji, Qi Gong, painting, writing poetry and dancing. Over the past 6 years, Timber has learned a deep understanding of how our environment and our thoughts effect our physical body. She is excited to teach others what she has discovered from her own personal experience as well as what others have taught her on the subject.
Timber is dedicated to teaching others how to live their life to their fullest potential. She treats each person as an individual, working with them on their own level of care through a specialized treatment plan. She embraces a Holistic approach to health and she offers unique and diverse techniques to balance the body, mind and spirit. She believes in the power of the mind, and that we can all manifest a happy, healthy and abundant life. She looks forward to working with you on your journey toward living a better life.
In addition to Acupuncture, Timber also a wide variety of Needleless Treatments. These include Colorpuncture, Shoni Shin, Reflexology, Hacci Biomagnetic Acupressure Cupping, Clinical Aromatherapy and Flower Essence Therapy.

Dr. Jordan Weeda, Founder of WCBB
Dr. Weeda is a North Dakota farm boy. He first attended the University of North Dakota, where he graduated summa cum laude and entered the sales industry. After two years, he realized that his calling was to help people, not sell them stuff. He moved west to the San Francisco Bay area with his wife Heidi. There, he enrolled at Life Chiropractic College West, seeking a chiropractic education from the institution with a reputation as the best chiropractic college in the nation. He graduated summa cum laude as salutatorian in 2009.
Dr. Weeda, and his wife Heidi, discovered Ashland on a road trip that took them through the Pacific Northwest. Drawn by the beauty of the Rogue Valley and the profound sense of community in our area, they felt a connection to this place. Home is where the heart is, after all, and they soon made the move from the Midwest to Ashland. Wellspring Centre for Body Balance was founded in 2010, and has grown from a small, one-room office to the spacious facility it is today.
In 2019, the Weedas sold the practice to Dr. Timothy March, and his wife Timber Hart, and moved back to Minnesota to be closer to family. Dr. March had been working alongside Dr. Weeda for nearly seven years as part of the Wellspring Centre and gave the Weedas the confidence that Wellspring Centre will continue to fulfill its mission with a new family at the helm. Wellspring Centre has blossomed into what Dr. Weeda always envisioned it could be: a team of providers and staff all committed to serving our patients with love.


Meet the Team | (541) 482-2021