Yoga Therapy
Yoga Therapy is the therapeutic application of Classical Yoga and Ayurveda, adapted to the needs of the individual. Clients are empowered to progress toward improved health and well-being. Yoga Therapy addresses specific health conditions, and can reduce the symptoms and causes of suffering.
While strengthening mind-body awareness, yoga provides tools and techniques to reduce anxiety and stress, restore functional movement, improve sleep and digestion, and manage symptoms of health conditions such as:
High Blood Pressure
Mastectomy
Back Pain
Hip Surgery
Chronic Pain
Depression
Parkinson's Disease
Addiction
Multiple Sclerosis
PTSD
Cancer
Plus Many More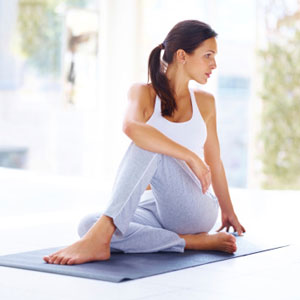 The Yoga Experience
The Yoga Therapy Experience at Wellspring Centre for Body Balance is a Private Yoga Therapy Session, Abby will help you to develop a practice that is realistic, achievable, and that restores holistic balance to your life. Each session is unique, depending upon the needs of the client. In a typical session you will:
Review current condition, prioritize and set goals
Learn and apply breathing practices (pranayama) and meditation techniques
Learn specific stretching/strengthening exercises (asana)
Abby has been a Registered Yoga Instructor (RYT-200) with the Yoga Alliance since 2010, and a member of the International Association of Yoga Therapists since 2011.
Through regular practice, we carry the ancient yogic wisdom forward into our lives, reducing suffering, improving relationships, and increasing compassion. Yoga is an amazing tool to get us out of our heads and into our hearts. The physical practice gives us a safe place to work with our strengths and weaknesses, to explore our boundaries, to confront resistance, and to express freedom. When breathing practices and meditation are layered in, the result is a continual unfolding of the heart toward the pure expression of love and wholeness.
Abby Hatfield
Schedule a Session
Sessions are one-hour long, by appointment. Please contact Abby to schedule at 541-787-1238 or abby.anjali@gmail.com
LEARN ABOUT ABBY »

Yoga Therapy Ashland | Wellspring Centre for Body Balance